It is fairly easy to build a basement. But no matter how you decide to use the place, you need to make sure the area is waterproof. Moisture must also be avoided.
Required Tools and Materials
Dehumidifier
Electric space heaters
Cabinetry
Bath fixtures
Plumbing
Electric outlets
Electric wiring
Light fixtures
Wood flooring
Linoleum
Tile
Screws and nails
Drywall sheets
Wood furring strips
Plastic sheeting
Waterproofing mixture
Step 1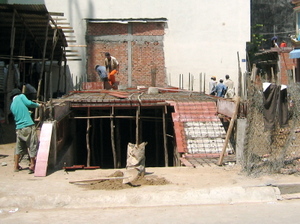 Determine the basement dimensions and how you intend to use it. Make a list of the things you plan to do there and what stuff you want to put in.
Decide where the walls and door will be installed. If there is no plumbing or electricity, include them in your plans. Set up the room around the plumbing and the electricity.
Step 2
Put the electrical wiring and plumbing in place. You can hire people to install them or you can do it yourself. When you build a basement, use build-outs or a dropped ceiling to hide the wiring and pipes.
Step 3
If you aren't using a dropped ceiling, apply drywall. Put the furring strips on the walls. If you live in a high humidity area, there are special drywall products you can use. Add the trim and moldings as desired.
Put the light fixtures and electrical wall outlets in place. Again, hire the services of an electrician if you do not know how to install these.
Step 4
After you install the plumbing, caulk them. Only install the sink, bathtub and similar features when the plumbing is complete. Place the cabinetry in the kitchen section.
If you have a bathroom installed, put the medicine cabinet there. Note: the flooring must be completely installed prior to adding any of these appliances.
Step 5
There are several types of flooring you can use. It can be wooden, tiles or linoleum. Put the flooring trim on wood or metal between thresholds of the doors.
You should finish the trim work now, because it will be hard to return to them later. You can use wood or metal strips; either one will keep the flooring from getting damaged.
Tips and Warnings
If you don't know how to waterproof the basement, ask a contractor. The settings will differ per home, so ask for specific steps you can use to prevent water leaks.
If there are pets in the house, you need to build a basement with them in mind. Try to make space for them close to the exit. You can also make an outlet door down the exterior door's bottom. .