A Jacuzzi is a whirlpool bathtub designed to provide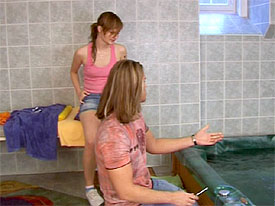 everyone with relaxing baths. It can easily soothe and replenish tired bodies, especially after long tiring hours at work. As opposed to its original purpose, it is prone to different kinds of maintenance problems including hard-to-fix damages. Be able to restore the beauty, efficiency and performance of your whirlpool bathtub at home by learning how to repair a Jacuzzi.
Materials Needed
The materials needed to accomplish this moderate task include filters, a heating element and a fuse. In addition, be sure to prepare a heating contact, a thermostat and a spray nozzle attached to a garden hose. Aside from these, do not forget to bring in a replacement tank, a wrench and O-rings. With these available, you can start fixing the Jacuzzi.
Steps
Switch the Jacuzzi on. In case it does not start, try to inspect the circuit breaker and power source for possible problems. Next thing to do is to find the GFCI button. Reset it. In case the whirlpool bathtub still does not work, you can change the fuse.
After this, check the water temperature. In case the spa is running but the temperature of the water is not heating up, try to switch the thermostat in a clockwise direction. Let it stand for at least two hours in thermostat mode. If it still does not heat up, there may be something wrong with the heating element. Replace it right away with a new one.
Next thing to check is the filter. In case it is not working well anymore, change it with a new one. It is necessary to change the filter at least once every three months. Aside from checking out the parts, it is very important to clean the Jacuzzi regularly in order to ensure full functionality.
It is not advisable to use cleaning products that are soap-based. While in it, it is also not good to wear oils or skin creams, which can actually cause slips and accidents. Every week, make it a habit to wash the filter using a high-pressure hose.
Next thing to fix is the water temperature. If the water is too hot, set the thermostat in a counterclockwise direction. Adjust it until you reach the desired temperature. It is time to change the heater contact if the temperature of the water fails to go down even after turning the thermostat in a counterclockwise direction.
If there are leaks, locate their sources and then fix them right away. The possible causes include loose fixtures and damaged O-rings. To solve these problems, tighten up every fixture and then change damaged O-rings. In case the tank cracks, you can replace it with a new one.