There are many places where you can build a home bar, but one of the best locations is the basement. Here are the things you need to prepare.
Required Tools and Materials
Laminate sheet
Laminate adhesive
Wood adhesive
Plywood sheet
Hammer
Finish nails
Wood paneling
Power drill
Concrete anchor screws
2 ½ inch framing screws
Table saw
2 x 4 framing boards
Measuring tape
Step 1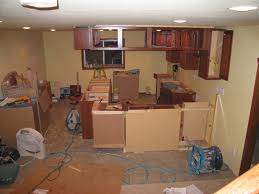 Cut the boards for framing. In this example, the framing board dimensions are 2 ft wide x 6 ft long. Saw four 6 ft long farming parts. Cut also four 2 ft long parts.
Step 2
Saw the vertical frame parts. Majority of bars are 42 inches high. If you are going to build a home bar that high, make the frame parts 37 inches high.
Step 3
Put the vertical fame and horizontal parts together. Make it into a box 40 inches high, 2 feet wide and 6 feet long. The horizontal parts are set below and over the vertical parts. This will put three inches on the height.
Step 4
If you are going to put the bar on concrete flooring, set the bar using the anchor screws. You can also use a power drill and masonry screws.
Step 5
Finish off the bar using wood paneling. Saw the wood paneling parts so it is 6 feet long out front and 2 feet long on the sides. Score the paneling with the table saw. Use the finish nails to install it. Hammer this on the bar sides.
Step 6
Saw a couple of plywood sheets measuring 76 x 30 inches. You can have a 6 inch overhang on the side of the customer. You can also make the bar top 12 inches wide. Use the framing screws to mount the primary section. Put adhesive on the bar top. Put the second sheet on.
Step 7
Put the laminate glue on the plywood surface. Put the laminate sheet on top of it. Use a rotary tool to trim any extra laminate. The home bar is finished. You can start using it now.
Tips and Warnings
Besides the laminate top, you can also use slate, tile or granite bar tops. Note that this is not a wet bar. A wet bar will require a sink. The installation process will also be different.
Trying to build a home bar is no easy task, but it is fun. All the work you put in will be worth it when your friends stand in awe of your creation.