There are few things more soothing to the eye than a pond in the garden. The good thing is that it is fairly easy to learn how to build a pond.
Required Tools and Materials
Chalk
Water stabilizer
Stakes
Stones
Electrical cord
Pump
Shovel
Pond lining material
Step 1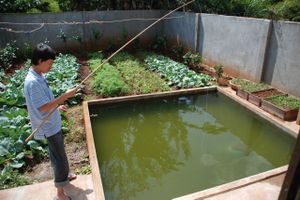 Decide how big you want the pond to be and how much space is actually available. Examine your garden. Do you want to remove the rocks, wall, trees, shrubs etc? Or do you think these can be worked in the pond scenery? You also have to decide on the pond features. Is it going to have an incoming stream? Or will it have a slope?
Step 2
Dig or excavate the site. If it is a small pond, a depth of 3 to 5 feet will be enough. If you will use a hard tub liner, put in place. Make certain leaking will not occur at the sides below the pool liner.
If you are going to utilize a flexible liner, ensure there is overlap on the area you will not dig up. Some liners may need a water plant to keep them immersed. You can also utilize stones.
Step 3
If you want to know how to build a pond, you must learn to connect a pump. These will have a pump outlet opening. This is for the cords and tubes. Just place the pump behind the plants so they are not visible. You can also put some weed fabric by the streambed along with some stones. This will secure the pump.
Step 4
Set the pump hose next to the bed. Put some big stones around it so the hose is not visible.
Step 5
The pond is almost finished. You just have to add the plants. Arrange the plants in any manner you like. Just make sure to put enough to cover the hose.
Step 6
Turn the water supply on. Check for any leaks. If there are none, the pond is finished.
Tips and Warnings
Choose the plants carefully. To make it more lasting, use plants that thrives in your area. If you will add different colored plants, try coordinating the colors. The rock size and placement will also be a factor.
It isn't difficult to learn how to build a pond. The basic process is the same for all the ponds. But if you will make a large one, the shovel may not be sufficient. Several shovels or even heavy equipment may be needed.