A house is one of the biggest investments you could make in your life. It is also the most fulfilling. Everyone dreams of being able to build their own dwelling place. Unfortunately, not everyone can afford it.
For those who have the money and the resources, here is a guideline on how to build a house: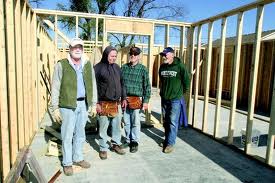 Tip #1: Your budget matters a lot. This is the first thing to consider if you are planning to build your house. Your budget should have a say about everything from the loan lot to the size, shape, style, and finish of your house. Estimating costs before the first stone is laid out will help you to know whether you can have the project finished at your desired pace or not. Planning your budget can also help you to modify certain plans for the house so it fits right to how much you can afford.
Tip #2: Choose your loan lot easily. Your location has so much to say regarding the convenience and comfort you can enjoy with your new home. Make sure to consider all the factors in choosing your loan. Also, remember to choose your loan first before laying out plans for your home. Selecting a floor plan can only be done if you already have a lot to build it in.
Tip #3: Choose your contractor well. There are a number of local builders in your area and for sure they will have differences. When you make your choice, make sure that you are at an advantage. As much as you want this to be a DIY project, you will need a couple of people to help you through the process. Unless your business is in building homes and you can play the roles of the builder, the excavator, the surveyor, the architect, and the interior designer.
Tip #4: After picking a floor plan, it is time to sign your contract. Make sure to read and understand everything that is stated in your contract. Remember that this is all about building a house. Any mistake can be costly on your part.
Tip #5: Enjoy the process. It can be difficult and nerve-racking at times, but try to relax. The start of the construction is a sign that you are nearing to make your dream house a reality. Also, being able to relax will help you see through every bit of the process. If you are into it and you have a clear mind, you will easily point mistakes before they can even get costlier.