Just like other operating systems, Windows Vista may suddenly freeze or simply refuse to boot up. Before you call customer support, you can try to repair Windows Vista yourself.
Step 1
Turn on your computer. Press F8 as it is loading. This will take you into Safe Mode. If you can enter Safe Mode, the problem involves software you installed. If you can't access Safe Mode, the problem is probably due to hardware.
Step 2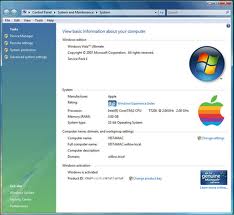 Once in Safe Mode, uninstall the offending program. Think of the last app you installed before the trouble began. After you remove the program, reboot the PC. If Vista is still freezing, go back to Safe Mode and remove the other programs.
How to Use System Restore
System Restore will return the OS to the last point when it was working without any problem. If you want to repair Windows Vista this way, go to "Start," "All Programs," "Accessories," "System Tools" and "System Restore."
Follow the prompts as they appear. If you are on a network, you will need the administrator login and password.
After you run System Restore, restart the computer (if it doesn't do so automatically). If it doesn't work, try other points on System Restore.
Hard Disk Problems
Step 1
Go to Safe Mode.
Step 2
Click "Start "and then go to "Computer". Right click the hard disk you want to examine. Choose "Properties". Go to "Tools". Under "Error-checking", click "Check now".
Put a check on the "Scan for and Attempt Recovery of Bad Sectors". This instructs Vista to perform a thorough scan. Place a check on the "Automatically Fix File System Errors". Leave this unchecked if you want to do the repair yourself.
Step 3
Click "Start". Vista will check the hard disk. This may take a long time. When finished, the system will restart. If the problem is not resolved, proceed to step 4.
Step 4
Check the hard disk as the PC reboots. If the drive is running but the monitor is blank, turn off the PC. Take off the casing. Remove the memory modules and reinstall them. If Vista runs when some modules are removed, those memory modules are damaged and have to be replaced.
Tips and Warnings
Remove any recently installed hardware. If the trouble started after you added the video card, take it out. Put the old one back in.
Always back up your files before attempting to repair Windows Vista. Do not attempt to remove the memory modules or casing if you do not know how to do it. You could damage the components.